a giant tent in Astana
Another interesting building for tonight's entry.
Astana, the capital of Kazakhstan is shaping to be the new modern architecture centre of the world, soon to surpass Dubai.
The UK architect firm
Foster + Partners
has designed a giant tent to be built in Astana.
The Khan Shatyry entertainment centre in Astana will become a dramatic civic focal point for the capital of Kazakhstan, the soaring structure, at the northern end of the new city axis, rises from a 200m elliptical base to form the highest peak on the skyline of Astana. The 100,000sqm centre's unique concept - to provide a sheltered environment embracing an urban-scale internal park, shopping and entertainment venue - was developed in response to the harsh climate of extreme weather in both winter and summer. The building will become a lively public space and an unprecedented amenity for the people of Astana which can be used throughout the year.

Held by a mast, the vast tent-like cable net structure is clad in ETFE, a material that allows light to wash the interior spaces while sheltering them from extreme weather conditions. A park steps up the height of the building in undulating terraces providing public space and green oases for the visitors. A tropical water park weaves its way through the landscape and its wave pools, river and waterfall are lit by roof lights that are seamlessly integrated into the design. The highest terrace is a viewing deck which will offer dramatic views over the park.

At the core of the building is a large flexible space that will form the cultural hub of the centre, accommodating a varied programme of events and exhibitions. Complemented by 40,000sqm of retail space with a wide range of cafes, restaurants and cinemas, as well as ample covered car park facilities, the Khan Shatyry will offer leisure facilities for all.
Artist's impression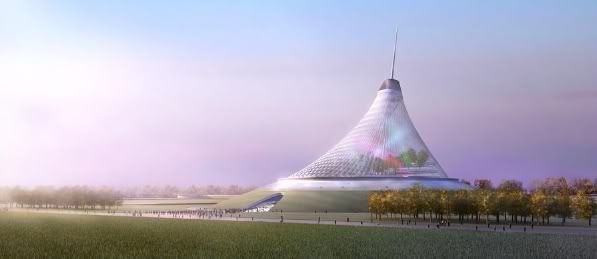 *for The Ongoing Barks of a Well Read Dog, check out
Shamus
(who is continuing Cammie's legacy)
.........ooooooooOOOOOOOOoooooooo..........
I had an interesting day today. This morning after I ate a little of my packaged processed turkey slices for breakfast, I had a drink of water from my large water bowl on the deck which my human had just replaced with fresh water out of the tap. Then he encouraged me to get into the catnip. Is that what you call a pusher?
Tonight Emily came over and made dinner of Hokkien noodles with cooked Chinese BBQ duck, bok choy, snow peas and puff tofu. She also brought all the ingredients over. I had a nice cuddle with her.
I ate all my dinner tonight
Labels: architecture