Trim the cat
Trim was a very famous cat. He adopted the human, Matthew Flinders - a very famous British explorer, after he was born at sea on HMS Reliance in 1797 during a voyage to Capetown (in what is now South Africa), to obtain livestock for the new settlement of Sydney.
Trim sailed with Flinders on his early surveying voyages, and also on his return to England in 1800. Trim helped Flinders to circumnavigate Australia in HMS Investigator and survived the shipwreck of the Porpoise on Wreck Reef in 1803. Trim was with Flinders on the Cumberland when it was detained in Mauritius by the French.
During his captivity, Flinders wrote a memoir of Captain Trim. You may be able to find this book or order it from your bookshop. Trim by Matthew Flinders (Angus & Robertson: 1997, $14.95, 51pp. ISBN: 0091814618)
You can see a statue of Trim on a window ledge of the Mitchell Library (State Library of New South Wales) facing Macquarie Street.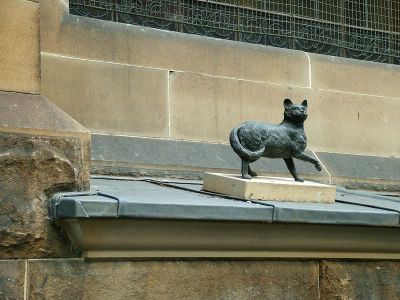 Statue of Trim
Nina's human, Hugh came to do some more gardening, and then he gave me some pats.
I also spent some time outside today after dinner, supervising some repotting of pot plants and even had a nap on the lawn before it got dark.
If you enjoyed reading this, let me know. You can email me at keisercat@wildmail.com
Labels: feline